Welcome to Singletrack Safari
OUR BRAND NEW 2017 WEBSITE WILL LAUNCH VERY SOON!  It will be entirely different to the current site in every way, and when it goes live in March we will be announcing an amazing new uplifted Enduro trip in an exciting, untapped area of Spain!
We have always been well known for our unique approach to mountain biking holidays: combining genuine value with superb, high-quality accommodation, the best service & support in the business & the very finest riding imaginable. Last year we took a big leap and put our Alpine holidays on hold so we could show even more people why they NEED to experience the amazing riding destination that is Andorra! We offer both Enduro/All Mountain and Downhill options, so we can create the trip of a lifetime for any type of rider!
This holiday has been carefully refined from year to year, and we have now reached a perfect balance of mind-blowing riding, superb trails, easy transfers and great prices. And now our natural trail riding incorporates DAILY uplifts to get you higher and further into Andorra's huge mountains than ever before - we are even publishing data on exactly how far you can expect to descend! Why uplifts? Well, most people want to spend the majority of their time descending, so all our riding in high season will have a high start and a low finish..sure there's still the odd small climb, but all routes now feature MINIMUM of 75% DESCENT!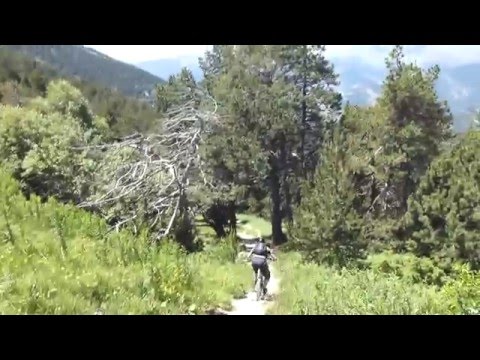 Whether you choose a guided or bike park trip you will experience the incredible trails which Andorra has to offer – it has become World famous for stunning riding amongst incredible scenery. Whether you are flowing down endless epic natural descents such as the 13km "Jordi's Way", sessioning the dusty Bike Parks of Vallnord or Soldeu , exploring the ultra-technical descents of "Skyfall" or feeling like an MTB movie star on the mindblowing world-edge "Ridgeliner" descent, every day offers riding moments you will remember forever.
Our guided holidays give you the chance to ride with the best fully qualified guides in the industry, who will show you trails that quite simply you cannot find alone, backed by the reassurance of local knowledge and experienced mechanical support. For those who are looking to develop their riding skills during their holiday we are also well known for our free skills coaching to help you deal with big mountain riding.
In addition to our incredible guided holidays we offer non-guided packages too – we are the Official Holiday Partner to the famous Vallnord Bike Park (home to the 2015 World Championships and annual World Cup round) and also Soldeu Bike Park – and we benefit from VERY special rates which allow us to offer 4 star holidays to these parks at genuinely unbeatable prices.You genuinely can't visit Andorra's Bike Park's more cheaply by going  direct: this unique relationship means that OUR full PACKAGES will COST you LESS than a hotel room on booking.com!

Operated by a small team of truly passionate and professional enthusiasts, we offer you the type of mountain biking holidays which we all dream of. We strive to change and improve year after year to guarantee that you experience the best possible riding imaginable, whilst providing the best quality staff and facilities, whilst staying in excellent hand-selected accommodation.
__________________________________________________________
Singletrack Latest Blog Posts
February Love Offer! - Save upto £75 per person! 4 Star holidays from only £500
NEW Budget Andorra Altitude BASiC Guided Option ONLY £425
Streaming VodlockerHd Raw (2017) English Subtitle
2017 Group Booking Deals - for Bike Park & Guided Trips!
Why do we call ourselves an Enduro company?

__________________________________________________________
Redefine your expectations
Our guided weeks focus on the very best trails nature has to offer with our knowledgeable, fully qualified guiding staff, coupled with a taster of the best man made riding. We'll even show you the unknown singletrack which lies tantalisingly hidden away from the trail markers at the bike parks!
At the end of another rewarding day on our world-class trails you can relax in fantastic accommodation carefully selected for its bike friendly attitude. All holidays offer secure bike storage, and on guided holidays we offer availability of our experienced mechanical support and a very comprehensive tool kit.
Of course, a great holiday is about more than just the riding – which is why at Singletrack Safari we make sure that we can guide you not only around the best trails, but also to the best bars, restaurants and evening entertainment to complete your day.
From our choice of holiday destinations there are several trips of a lifetime for you to choose from, whatever your style of riding – from fully guided epic All Mountain riding to world class Downhill trails in big mountains; we can cater for everyone. The greatest difficulty will be deciding where you want to go first!